Back to School Chic: Outfit Ideas That Will Make You the Trendsetter
Can you hear that? It's the familiar jingle of the school bell beckoning us back for another year. But this isn't about just making it through the year; it's about slaying the school year in style. Whether you're a schoolgirl, a college babe, or a fashion-forward teacher, we've got your back-to-school outfits sorted. Are you ready to ditch the summer fun and dive headfirst into a stylish and stellar academic year? Read on!
Back to School: Dressed to Impress with Sporty Chic
Do you fancy a combination of fashion and comfort? Then, the sporty chic look is your go-to. It's not just about looking fabulous; it's about feeling incredible. Toss on your favorite hoodie and Sweatpants, slip into those comfy sneakers, and voila, you're good to go! It's perfect for those late mornings when the alarm clock is less persuasive than the dreamy tendrils of sleep. Plus, who said style and comfort can't walk hand in hand?

Get the look: Piping Detail Wide Leg Track Pants ($35), Printed Short Sleeve Crop Top ($12),
Contrast Piping Black Baggy Sweatpants ($31)
City Walk Outfits: From Classrooms to City Streets
After a long day of poring over textbooks, you deserve a little exploration. Enter our city walk outfit inspiration, your companion in your after-school escapades. This combo includes a loose-fitting top, high-waisted jeans, and a pair of trusty sneakers. It's all about effortlessly transforming your school outfit into a city-ready ensemble. Add a sweater or hoodie on top depending on the weather. After all, being stylish doesn't mean sacrificing comfort.

Get the look: Cat Print Cropped Tank Top ($15), Back Star Patchwork Flare Jeans ($39), Irregular Floral Pattern Midi Skirt ($23), Halter Mesh Floral Crop Cami Top ($12)
Essential Tops: The Foundation of Your Outfit
Back to school outfits wouldn't be complete without essential tops. These are the bread and butter of your wardrobe, easy to mix and match, and guaranteed to turn heads. From distressed tees for the trendy at heart to basic crop tops for those who love simplicity, we've got something for everyone. Pair them with your favorite denim pieces, and you've got yourself an outfit that screams style and confidence.
Get the look: Cross Over Mesh Crop Cami Top ($12), Split Cuff Button Front Long Sleeve Blouse ($23), Paneled Lace White Puff Sleeve Blouse ($22), Contrast Slogan Printed Crop Top ($12)
Essential Bottoms: The Perfect Complement
No outfit is complete without the perfect bottom half. Whether it's a trendy pair of jeans for a casual look or midi skirts for a more formal vibe, essential bottoms are the missing piece in your fashion puzzle. Midi skirts and classic skinny jeans will carry your fashion game into the fall and winter. The bottom line? Essential bottoms are a non-negotiable part of your back-to-school outfits.

Get the look: Relaxed Mid-Waist Boyfriend Jeans ($39), Washed Low Waist Flare Jeans ($36), Cross Over Pleated Tailored Pants ($41), Mesh Paneled Floral Midi Skirt ($22)
Essential Outerwear: Layering up in Style
As the leaves change and the air grows crisp, outerwear comes into play. A knit top for the early fall days, a cozy hoodie for the winter chill, or a light jacket for everything in between. Layering is an art, and essential outerwear is the paintbrush that brings your outfit to life. So, as you head back-to-school, don't forget to pack these layers of style.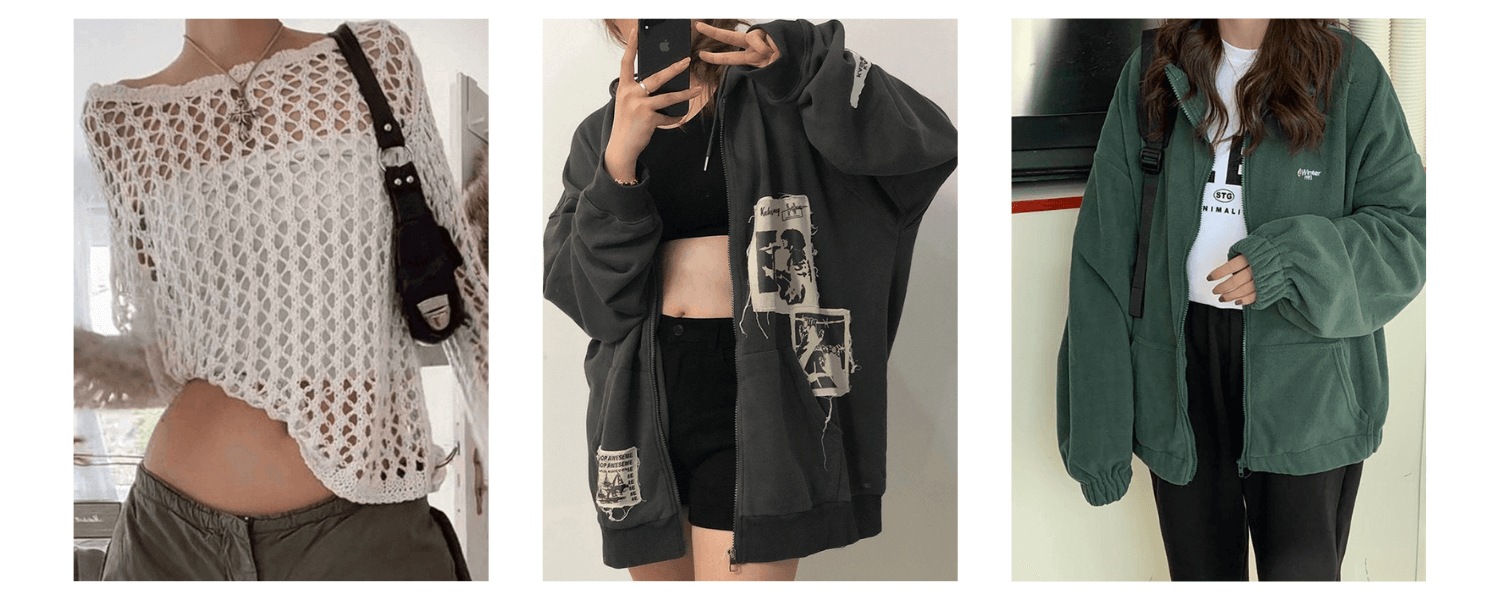 Get the look: Hollow Out Crochet Long Sleeve Knit Top ($24), Patchwork Oversized Zip Up Hoodie ($26.99),
Letter Print Zip-Up Jacket ($28)
Accessories: The Icing on the Outfit Cake
If outfits were a cake, accessories would undoubtedly be the icing. Whether you opt for a bold colored frame to add a pop of color or go for classic black shades for a more subtle look, sunglasses are a must-have accessory in your back to school outfits. And caps are not just for bad hair days, though. They can be an essential part of your back to school outfits, adding a sporty chic edge to your look. A stylish backpack can pull your back to school outfit together, acting as a style statement and a utility piece. So, get ready to step up your accessory game this school year!

Get the look: Wrap Around Clear Sunglasses ($4), Vintage Wash Distressed Baseball Cap ($18), Large Canvas Satchel Bag ($32), Vintage Wash College School Backpack ($46)
Now that you're armed with our ultimate style guide, you're all set to make this school year your most fashionable one yet. Remember, it's not just about looking good; it's about feeling fabulous in your skin—and clothes. So here's wishing you the best of luck with your back-to-school outfits, and remember, fashion is a journey, not a destination. Are you ready to embark on this sartorial adventure? Let's hit the books—and the hallways—in style!